Live Rolling Raid Festival
Today Saturday, September 5th: 17 DJ's play music for 17 hours to raise funds for Farmworkers affected by COVID-19 & the wildfires.
Spread the word and tune in. The benefit will feature some of the Bay Areas most legendary DJ's
Check the lineup and tune all day today Saturday September 5th from 8am-1am
Get on Twitch, enjoy some music and hopefully make a donation, see the schedule below.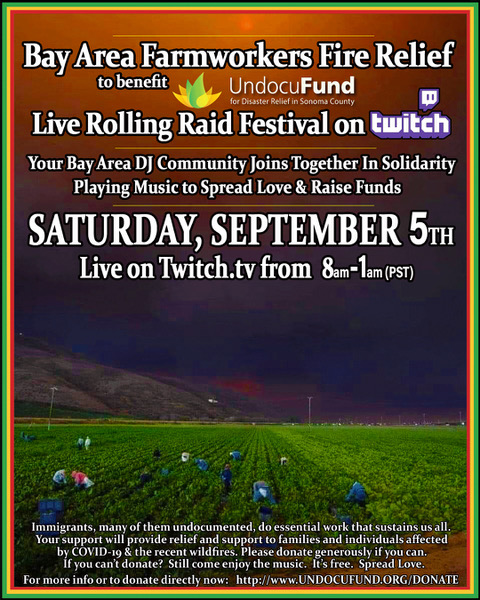 8am – Jacques @wblkmusic
9am – Deejay Theory @deejaytheory
10am – Jah Yzer & Mr.E @miguele415 @jahyzer @alpastorpapi415
11am – MrE @miguele415 & Jah Yzer @jahyzer
12pm – Shortkut @shortkut
1pm – Mind Motion @notahobby1
2pm – Ras Rican @djrasrican
3pm – Audio1 @djaudio1
4pm – Green B @djgreenbizzle
5pm – Umami @djumami
6pm – Chuy Gomez @officialhugogomez hermano of @chuygomez will be sitting in for his brother and so appropriately reppin for @norcaldjs
7pm – Lady Ryan @djladyryan
8pm – Irie Dole @iriedole
9pm – Franchise @iknowfranchise
10pm – Lazyboy @djlazyboy
11pm – Smoky @djsmokeone
12am – Coop D'Ville @djcoopdville